services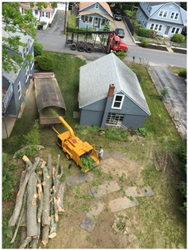 Tree Service
When deciding to remove a tree, many factors come into play, including:
If the Tree Is Dead or Dying
If the Tree Is in a Hazardous Position
If the Tree Is Crowding Other Trees
If the Tree Has Been Damaged in a Storm
To Allow for New Construction or Increase Yard Size
If you have any trees in the above-mentioned categories, call Levesque Wood Company and let us take care of it for you.
Land Clearing
When you decide to build on a site, and you need it cleared first, look no further. Levesque Wood Company has the machinery and the staff to provide you with fast and efficient service. Our machinery includes bulldozers equipped with log buckets, a whole-tree chipper, 65 foot bucket truck, dump trucks, log-loader trucks, and a Bobcat. This machinery, along with our skilled workforce, will prepare your site for new construction in a timely manner. We can give you a quick quote over the phone or, if you prefer, come visit the site in person. We cover the area north of Boston, primarily Northeastern Massachusetts. Our estimates are free, and you will find our prices to be competitive.
Stump Grinding
Tree stumps and shrubs ground out below the surface allowing you to plant grass. Grinding removes the stump without disturbing the surrounding lawn area.