FIREWOOD / WOODCHIPS
Firewood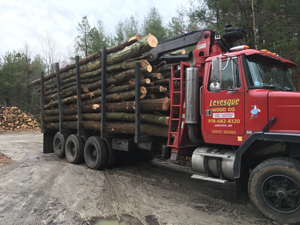 (10-20 foot lengths – we do not sell cut-and-split firewood or individual cords.)
Since we are a land-clearing company, you can imagine the amount of firewood we deal with everyday. We sell hundreds of cords of wood yearly to local firewood dealers. In addition, we have many homeowners who purchase wood from us every year, and save money splitting the wood themselves. The log lengths range from 10' to 20'.
With skyrocketing oil and natural gas prices, our wholesale firewood is a cheap alternative to heat your home.
Our price for a dump truck load, which holds five cords of wood, is $650. The red truck pictured above holds approximately eight cords of wood for a price of $1000. Firewood dealers who purchase multiple truckloads can receive further price discounts.
Woodchips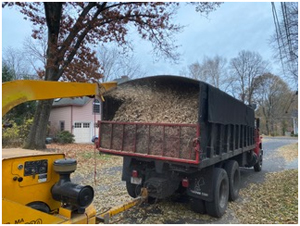 Our woodchips are a cheap alternative for your groundcover needs. We can deliver a truckload of woodchips to your home for a price much lower than standard bark mulch. Some of our customers mix woodchips with their bark mulch to economically meet their needs.
For firewood and woodchip sales, please contact Yvan directly at
978-423-2459
.